I keep changing my mind about the name of this piece. Am I 'Going round the Bend' or is one driven 'Round the Bend'? Which ever, the next of the 12 squares are done.
This is 'Crossing Over to the other Side'. The cross over part is lovely to quilt. It has a nice swing and gives some gorgeous shapes.
The 'scale tool' of choice this week is a thimble.
I call this motif Queen Katherine's Headdress (as in Katherine of Aragon, first wife of Henry VIII). Although that was not on my mind when I created the motif, every time I see it I am reminded of Tudor headdress fashion in the early 1500s. The 'hood' to give it it's proper title, was a wonderful excuse to flaunt wealth and status with an incrustation of pearls and jewels - see below. Early pictures of Anne Boleyn, second wife, show the same headdress, but then the angles softened to horseshoe shaped curves set further back on the head. Still plenty of room for those jewels though!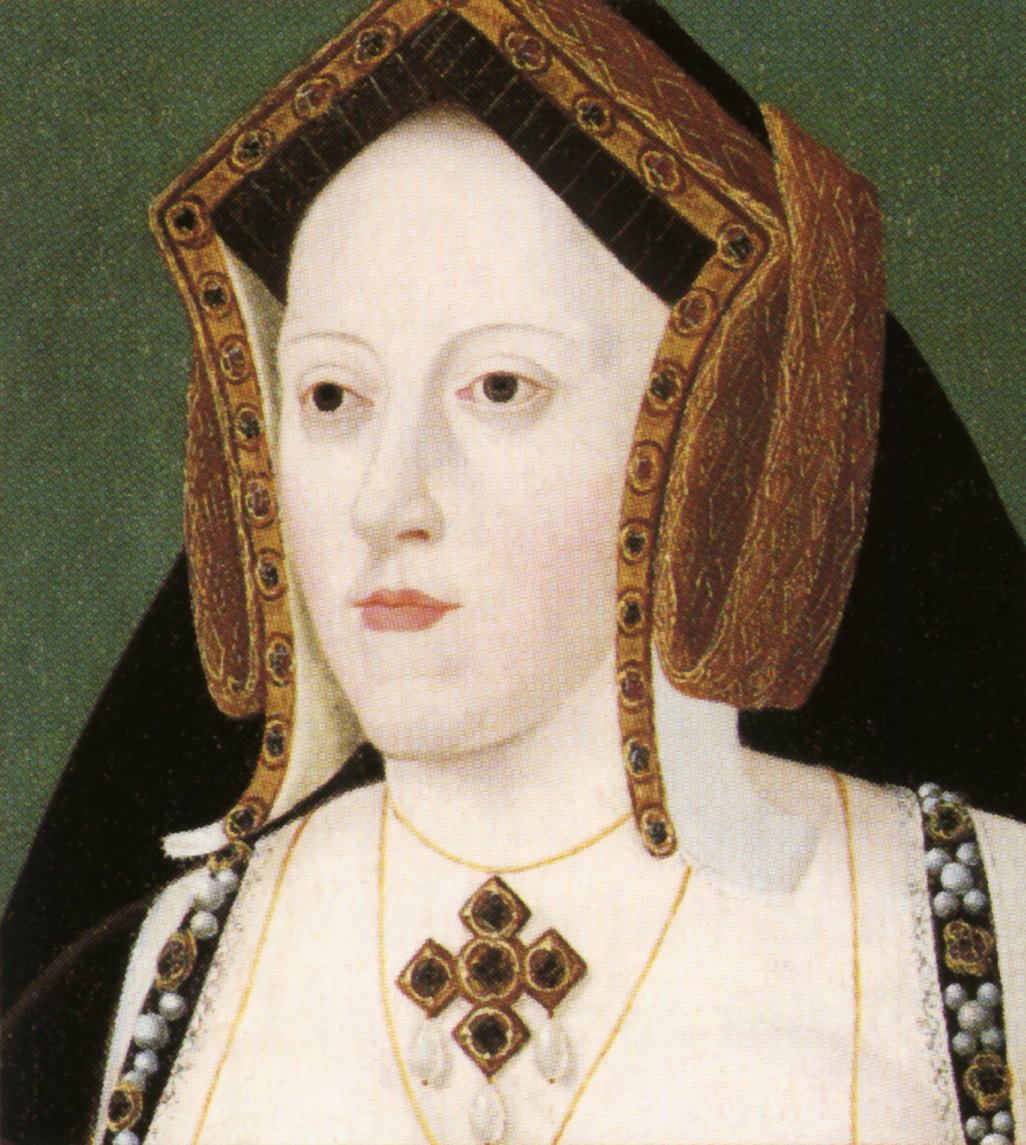 I digress. Back to the motif, alas not studied with pearls and precious stones, just a plain old thimble not even made out of silver!
And now to the really fun bit - joining the squares together and watching the overall pattern emerge. Here are the 2 that you saw in week 1 of this project, Sticks and Stones with Fly Away Home.
The 12 Squares will be arranged 3 wide by 4 deep, so Crossing Over to the Other Side completes the top row.
The joining can be a bit tricky, because no matter how accurate you are with measuring and marking the squares, they are distorted by the quilting. You can't trim them without loosing the pattern so it is down to stretch and steam. If that doesn't quite do it, the fall back is my grandmother's favourite phrase on such occasions 'Nothing that a blind man on a galloping horse would notice'!!!
This week is the start of the Blogger's Quilt Festival. I'll be entering 2 quilts this year, in the scrappy quilt category and it goes without saying, in the FMQ on a domestic machine. If you are new to this and want to see what it's all about
click here
.
I'll be adding 2 more posts today or tomorrow with my entries. Please do visit, join in the fun and go and vote for your favourite.
Thanks for visiting...
Hilary Florence
Please find below a list of linky parties. I may not link with all of the every week, but with some of them most weeks. Please go and have a look at some of the other wonderful quilts and quilters there.